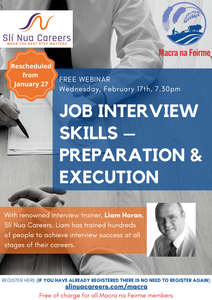 Exclusive webinar will give Macra members the edge in job interviews
Job seekers and career changers be given the opportunity to sharpen their interview skills, thanks to a forthcoming webinar exclusively for Macra na Feirme members.
'Job Interview Skills – Preparation and Execution' is the title of the webinar hosted by Sli Nua Careers, one of the country's leading career training agencies.
The webinar, conducted by Sli Nua Careers MD Liam Horan, is free for members of Macra na Feirme. It will take place on Wednesday, February 17th, at 7.30pm.
"We are delighted to team up with Sli Nua Careers to deliver this webinar which is timely given the current upheaval in the jobs market. It will help members of Macra na Feirme prepare themselves as professionally as possible for job interviews in the future," said Debbie Donnelly, Training & Development Officer, Macra na Feirme.
Although the event is free of charge, Macra members should register now by visiting www.slinuacareers.com/macra.
"Many great candidates fail to 'sell' themselves in interviews – this webinar shows them how to really do themselves justice," said Liam, who is published nationally on career matters.
"We feel this webinar will prove invaluable at a time when it's so important to give yourself the edge in what is an extremely competitive jobs market."
All participants will also receive a range of relevant resource material. Sli Nua Careers offers a 15% discount on all its services to Macra na Feirme members.
FOR MORE DETAILS, contact:
DEBBIE DONNELLY, Training & Development Officer, Macra na Feirme
T:  086 780 8987, E: ddonnelly@macra.ie
LIAM HORAN, Managing Director, Sli Nua Careers
T: 087 9185 867, E: liam.horan@slinuacareers.com
---