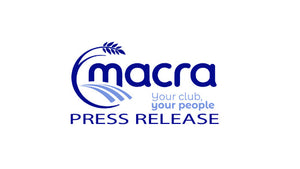 Farm succession win for Macra
Macra National President Elaine Houlihan and Agriculture Affairs Chair Liam Hanrahan attended the Taoiseach's roundtable meeting with farm organisations to discuss policy priorities from the farming organisations.  
Macra has long proposed an on-farm succession scheme that supports the older generation of farmers to step back while also supporting the younger generation in their desire to become active farmers.  
"We are pleased that the Taoiseach has given commitment to review our farm succession scheme, a scheme which was supported by other farm organisations yesterday, we are hopeful that this will be included in the upcoming budget. Farm succession is vitally important to secure a future for young farmers throughout Ireland" said Macra National President Elaine Houlihan.   
Macra's proposed farm succession scheme will financially reward the landowner who intends on stepping back from farming whilst also incentivising the new entrant young farmer to implement all applicable environmental measures to reduce the carbon footprint of the farm and in so doing will increase the farm's economic, social and environmental sustainability. This will provide major opportunities for land mobility, generation renewal and the prosperity of rural Ireland while enhancing the environmental credentials of our grass-based system of food production. 
---