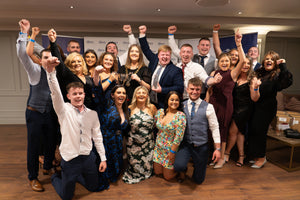 Freemount Macra Named Club of the Year
Freemount Macra, from County Cork, has been named overall Macra Club of the Year at this year's Club of the Year awards, which are sponsored by National Broadband Ireland (NBI).
The long standing award is held annually on the October bank holiday weekend at the Macra Rally, which took place this year in the Shearwater Hotel, Ballinasloe, Co. Galway and was hosted by Galway and Roscommon Macra.
This year's competition featured additional regional awards, as well as an award for best emerging club. As part of the Club of the Year Competition, awards for Best New Macra Member are presented to an individual Macra member in each region.
This year's winners include:
Club of the Year:
Leinster Regional Winner: Kilmuckridge Macra, Co Wexford
Munster Regional Winner: Freemount Macra, Co. Cork
Northwest Regional Winner: Three Parishes Macra, Co. Mayo
Best Emerging Club: Wilkinstown Macra, Co. Meath
 The Club of the Year competition is designed to encourage clubs to be dynamic and active, rewarding their achievements and contributions at both a local and national level.
Best New Member
Leinster Winner: Rebecca Hawkins, Baltinglass Rathvilly Macra, Co. Carlow
Munster Winner: Marie Walsh, Kinsale Macra, Co. Cork
Northwest Winner: John Fallon, South Roscommon Macra, Co. Roscommon
The Best New Member awards are given to members who joined the organisation between March 1, 2022 and February 28, 2023, and who are deemed by his/her club to have made a significant contribution to the development of the club during his or her first year of membership.
"The highlight of our national rally is the best new member and the Club of the Year competitions, this year was no different with entries from all over the country. The rally is a once-a-year showcase where clubs demonstrate the difference that they are making to people's lives and communities.  Our clubs and our people, are our greatest asset, to see them display what they are capable of gives me great hope for Macra coming into its 80th year, well done to all our winners and thank you to our sponsor NBI for making this year's competition possible."
Niall Beirne, Head of Strategic Partnerships at NBI commented. "A massive congratulations to all the worthy winners in the NBI sponsored Club of the Year awards, as well as the individual winners from the Best New Member category. It's really remarkable to see how integrated Macra members are in their local communities; and how much energy each club puts into making their area an attractive place to live and work. I hope the work we are doing at NBI, delivering Ireland's new high-speed fibre network under the National Broadband Plan, will assist Macra's efforts and provide a key enabler for the sustainable development of rural farms, businesses and communities."
---