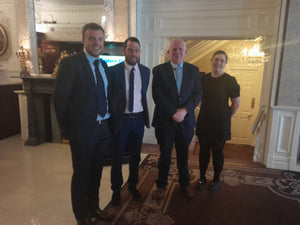 Macra Na Feirme Delegations Meet TD's & Senator
Published 11th July, 2022
Meeting with Jackie Cahill T.D.
Macra na Feirme recently met with Deputy Jackie Cahill to highlight a number of issues affecting young farmers and the challenges and opportunities that face young people in the sector. The meeting took place in Dublin, the main topics that were discussed were access to Land for young people and the role that The Land Mobility Service can play in facilitating land transfer to younger people and the assurances needed to secure long term funding for the service.
Macra na Feirme representative also highlighted the need for a just transition in relation to the climate targets and that young farmers were particularly vulnerable to price changes and to changes in policy over a short timeframe. The investment demonstrated by young farmers in new technology was highlighted and the need for increased access to funding under TAMS for young farmers into the future.
The meet was very constructive and we would like to thank Deputy Cahill for his time and ongoing support.  
In attendance at this meeting were JOHN KEANE National President,  _ JONATHAN DWYER North Tipperary NCR and GILLIAN RICHARDSON Skillnet Manager
Meeting with Martin Heydon T.D.
Macra na Feirme also met with Minister Martin Heydon to discuss Make The Moove a mental health programme developed within Macra designed to provide education and raise awareness around mental health in rural communities. The Minister was given a presentation which included to work carried out to date by the programme in both Tipperary and Roscommon along with short term future plans.
It was conveyed to the Minister that greater support was needed for the programme to deliver on the demand and need that existed for specific rural supports. Make The Moove aims to develop training courses in the area of mental health in the short term for all ages and also to develop a national support network similar to those that exist in other countries.
We would like to thank the Minister and his team for their time and support shown for the programme and look forward to future engagements on the programme. 
In attendance at this meeting were JOHN KEANE National President,  JONATHAN DWYER North Tipperary NCR, GILLIAN RICHARDSON Skillnet Manager and MICK CURRAN CEO Macra na Feirme
Meeting with Senator TIm Lombard
Macra na Feirme representatives also met with Senator Tim Lombard in relation to young farmers. Senator Lombard was made aware of the challenges facing young farmers in terms of access to Land.
Macra na Feirme also highlighted that Ireland is the only member state not to provide installation aid for young farmers across the EU from CAP funding. The representatives also highlighted the need for greater access to finance for young farmers as this is a significant barrier to young people starting out in the sector.
The issue of rural living and housing was also discussed where it was highlighted that young people can no longer afford to purchase houses in rural Ireland or indeed build a house due to planning issues. Senator Lombard has always been a great support to Macra and we thank him for his time and look forward to  future engagements.  
In attendance at this meeting were JOHN KEANE National President,  JONATHAN DWYER North Tipperary NCR, GILLIAN RICHARDSON Skillnet Manager and MICK CURRAN CEO Macra na Feirme
View a Flickr Gallery of images >>
---