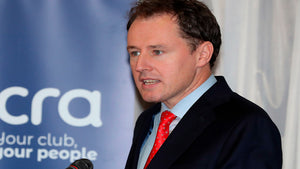 Minister's 'Forgotten Farmers' Commitment Welcome but Greater Clarity Needed
At Macra's annual conference last weekend the Minister for Agriculture, Food and the Marine told members in attendance that the Department of Agriculture, Food and Marine will shortly announce a scheme that will support farmers who are commonly referred to as the 'Forgotten Farmers'. Macra President John Keane welcomed the announcement and commended the Minister for bringing forward a set of criteria to provide funding for this cohort of farmers.
"For over a decade Macra has been actively involved in discussion and has made countless submissions in relation to the forgotten farmers, it is something that has been on our agenda as these once young farmers were neglected at the time," said Mr Keane.
The criteria that the Minister outlined will need further work to clarify the exact number that will qualify under the proposed scheme. It is Macra's belief that every forgotten farmer needs to receive the nominal sum of supports that they have missed out on since 2008. There also needs to be clear funding outlined for the scheme and how these forgotten farmers can access the funds. Every effort must be made to ensure that all forgotten farmers are catered for under the new scheme.
"We cannot have a situation where some forgotten farmers are left out for a second time, the value of fairness must come through on this and all those that were forgotten must be included to resolve the issue once and for all," said the Macra President.
Macra will make a further submission to the Minister in the coming weeks that will further outline its proposals and deal with some outstanding questions that arose as a result of the Minister's announcement at the weekend.
Date of Press Release: 2nd November 2022
---